Annette Manias, president of Oasis Solutions, recently competed in the charity dance competition Let's Dance Louisville. It's a well-kept secret that Annette is an absolutely fantastic dancer (She would blush at this description, but she is just being modest!)
Annette has been dancing for a little over 10 years and two weeks ago, she had the chance to showcase her talent in the local competition Let's Dance Louisville. The competition created so many wonderful memories and meaningful life lessons that Annette wants to share…
---
Life is all about the people you meet and the lessons you learn. What you receive is not as important as what you give, especially when there are so many people who need help from a community that gives Oasis the opportunity to grow and be successful.
For that reason, I decided to step out of my comfort zone and participate in Let's Dance Louisville competition on June 17th to help raise money for the Feed My Neighbor charity.
The charity's goal is to help provide food for about 100 people a day, every day of the year. These people are our neighbors, our coworkers and even our friends, who are trying hard each day to work and provide for their families but still struggle to make ends meet.
"I  am thankful for an opportunity to give back to the community and for Oasis to have the chance to help those in need."
---
I came to the Let's Dance Louisville competition to give what I can for the people in need, but to my surprise,I also received valuable life lessons that I want to share with you:
I learned that even though there are so many people working hard every day, they still don't make enough to buy food. I learned that there are things that we take for granted, but for others, they are a luxury.
I learned that the world is full of angels from heaven that are willing to help and volunteer to make sure food is supplied. The gift of their time and work are what makes our community great.
I learned that that things aren't always as they appear. We were told "don't judge a book by its cover" but I'm still amazed when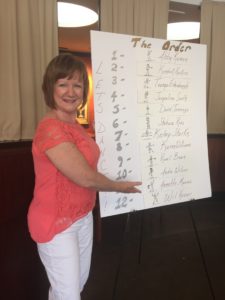 I encounter those who don't get that concept.
Even after spending 26 years in the business world, I still see people that judge someone by the way they look or who they appear to be; everyone has a story and you never know what's behind the exterior.
I learned that judging someone is easy –  instead, let's open your heart to get to know someone, you will be amazed by what's inside. Those lessons open my mind and show me the world from a different perspective, and I think we can all incorporate into our lives.
Beyond all that I learned, the Let's Dance Louisville competition brought me new friends; wonderful people that would never cross my path had I not taken on this challenge.
All those challenging practices and the pressure paid off when Oasis raised over $25,000 to help over 150 people on the June 18th Feed My Neighbor lunch. Seeing the smile on everyone's face lifted the spirits of all the participants and brought the community, as a whole, closer together.
I am glad that I had the chance to give back to the community and I'm thankful for those lifelong lessons and friends that I got along the way. I will take these valuable lessons to my team as we consistently discuss how to serve our customers and making sure Oasis is putting our best Two Steps forward.
Stay tuned on our ERP path!
Subscribe to our newsletter and get the latest news