#NextIsNow was the theme for SuiteWorld 2017 and for me and the Oasis team, the growth of SuiteWorld from last year to this was evident. As I hope to summarize and encapsulate some of the key takeaways I experienced at SuiteWorld below, I don't know if I'll do the whirlwind of SuiteWorld '17 justice, but here it goes.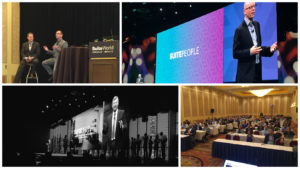 1) NetSuite went through an itsy bitsy bit of change themselves in 2016/2017. Just a 9.3 billion dollar acquisition by Oracle. And Oracle CEO Mark Hurd made a special appearance at the opening Keynote to ensure that everyone attending heard Oracle's message loud and clear that NetSuite was purchased to be ran as a completely separate Global Business Unit.
Getting all the resources, cash, talent, technology and data centers that Oracle has to offer without any of the red tape, bureaucracy and big corporate weight that they carry. Mark conveyed a strategy that was consistent with all the information Oasis has received through our channel partnership for over a year.
However, it was critical for us to hear straight from the CEO's mouth, the reiteration of the strategy as well as to hear the reinforcement of the "why" behind the acquisition.
Essentially, if you can't beat them, buy them. Oracle's cloud foot print in the mid-market was minimal at best, their technology and strategy were severely behind NetSuite's capabilities and NetSuite's customers had very little overlap in Oracle's customer base. However, NetSuite was beginning to swim up market and capture share from Oracle.
Oracle realized that acquiring NetSuite to the tune of 9.3 billion outweighed the cost of obtaining the technology, talent, and customers required to compete with NetSuite. Not to mention that Oracle could provide NetSuite with the data centers and global footprint that would exponentially accelerate their growth. Oracle had the gasoline to throw onto NetSuite's bonfire. In a nutshell, Oracle + NetSuite = MORE, BETTER, FOREVER.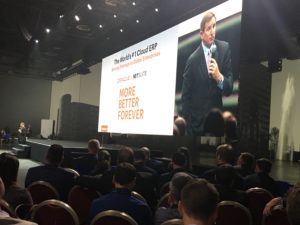 Mark Hurd, CEO of  Oracle: Oracle + NetSuite: More, Better, Forever
---
2) I got to take the stage at SuiteWorld with Scott Jeffries, NetSuite Director of Value Management. Which was pretty cool 🙂 This allowed me the chance to describe to an audience of about 120 attendees how Scott's team at NetSuite and Oasis work with our customer to help them build business cases for investing in NetSuite that offer clearly defined, impactful and measurable ROI.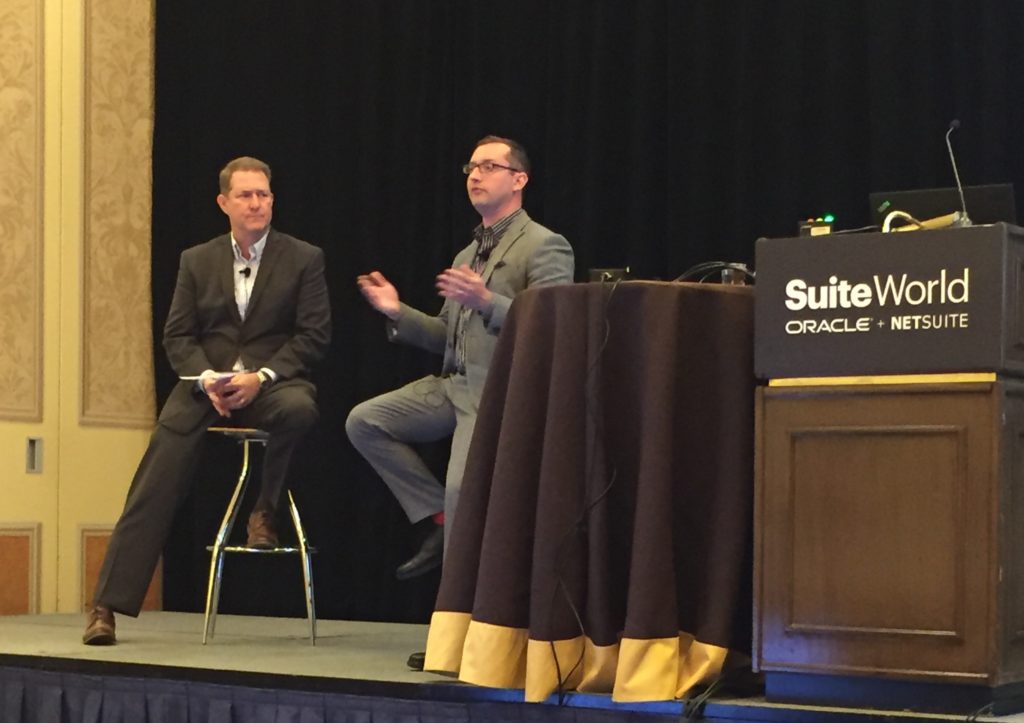 Aaron Rosenberg & Scott Jeffries take the stage at SuiteWorld 2017,  I got a "speaker" badge (which made me unbearable for my colleagues to be around for 3 days)
---
When Oasis works with a customer who is interested in NetSuite, typically they are looking at making positive changes to their business. Opening up new revenue channels, like an e-commerce channel, or expanding operations through acquisition or other significant revenue events. It was a really fun and exciting opportunity to discuss how Oasis has helped our clients develop and measure a quantifiable ROI on their NetSuite projects with other Solution Provider Partners. True Solution Providers offer much more than taking orders and replicating reports from the old system to the new, and I was honored that NetSuite thought highly enough of our team to ask me to share our best practices.
3) There's some really cool product enhancements on the horizon, starting with SuitePeople. For years NetSuite has relied on partner apps (called Suiteapps) to help extend the platform efficiently to the Human Resources dept. Particularly in organizations that have several hundred to several thousand employees, NetSuite had never really been able to fully address the Human Capital needs that those fast growth companies have.
Now with the release of SuitePeople, NetSuite is expanding their product offering to address those needs and with deep Oracle R & D pockets, they will continue to improve and enhance their capabilities and combat the Workdays of the world. As well as offering customers a single point of conducting business, instead of having to manage multiple apps or other providers for services in the HCM system space.
So in summary, the Oasis team had a great time in Vegas and the conference was nice too. Kidding aside, we learned a ton, we strengthened our relationship with NetSuite, and NetSuite (Oracle) strengthened our assurance that NetSuite is the best cloud based ERP/Business Management application on the marketplace today.

Best SuiteWorld yet? So far and until 2018, I'd say the answer is a resounding YES!
Oasis would love to help you and your business leverage modern technology to increase efficiencies and net profits. Reach out anytime to see if Oasis & NetSuite or one of our many other products and services are a fit for your team and your business: Contact Us
Stay tuned on our ERP path!
Subscribe to our newsletter and get the latest news